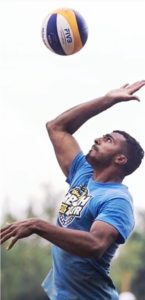 The Mississauga Royals Volleyball Club is excited to announce that OVA superstar Parvir Jhajj is a part of the coaching staff for the 17U Girls Team.
Jhajj had a tremendous OVA career playing for the Pakmen Volleyball Club from 13U-18U where he won numerous Championships. Below is a list of his indoor accomplishments:
14U Provincial + National Champion + Named National MVP Div1 Tier 1
15U Provincial Champion Div1 Tier 1
16U Provincial + National Champion Div1 Tier 1
17U Provincial Champion+ Won 18U Provincials as an underage team Div1 Tier 1
18U Provincial Champion Div1 Tier1
Jhajj has also had a fantastic beach volleyball career winning multiple Provincial and National championships.  In 2014 Parvir represented Canada at the U17 World Championships in Acapulco, Mexico where he and his beach partner, Sharone Vernon- Evans, finished 4th overall.
Mississauga Royals Club president commented on this acquisition: "I'm incredibly excited to have Parvir on the coaching staff for the Royals.  I've coached him since he was 13 years old and to see what he has accomplished in his career and to now want to give back to young players is very inspiring.  He's been coaching for a few years now with some great mentorship and I like that he has a strong technical background, it is perfect for the culture of the Royals".